Dairy Nutrition: An Engine for Economic Growth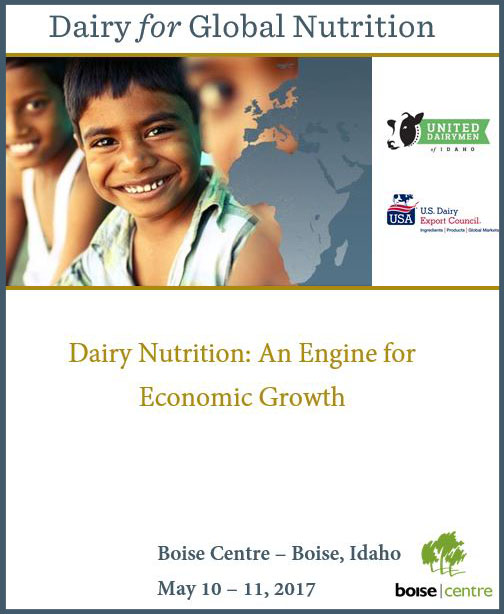 Click here to view our conference program!
Session 1 - From the Farm to the Table
Eric Bastian, Ph.D., United Dairymen of Idaho
Session 2 - Setting the Stage: What Makes Dairy Work?
Maximizing Recovery Rates and Growth with Dairy-containing Supplements
Heather C. Stobaugh, Ph.D., Tufts University
Latest in the Field: Higher Dairy Content Results in Improved Physical Outcomes
Nina Schlossman, Ph.D., Global Food & Nutrition, Inc.
Protein Quality Matters!
Mark Manary, M.D. & Meghan Callaghan-Gillespie, Washington University School of Medicine in St. Louis
Linear Programming: A Useful Tool for Food Aid
Melody Mui & Meghan Callaghan-Gillespie, Washington University School of Medicine in St. Louis
The Growth Components of Milk
Kim F. Michaelsen, Ph.D., University of Copenhagen

Session 3 - The First 1,000 Days: Treating Mum Too
Prenatal Supplements and Their Role in Reducing Stunting
David Clark, Ph.D., Bovina Mountain Consulting
From the Field: Improving Fetal and Infant Growth in Vulnerable Populations
Seth Adu-Afarwuah, Ph.D., University of Ghana
Addressing the Double Burden of Malnutrition
Bharati Kulkarni, MBBS, DCH, MPH, Ph.D., National Institute of Nutrition, India

Session 4 - Experience from the Field: Vietnam Case Study
Nutricare Vietnam
Nguyen Minh, Ph.D., CEO, Nutricare
NutiFood Vietnam
Tran Thi Le, CEO, NutiFood
IFC in the Dairy Sector: Spotlight on Nutrition
Gene Moses, International Finance Corporation (IFC)